We have today announced the launch of 'Florence' – the first of 10 HS2 Tunnel Boring Machines (TBMs) that will dig 64 miles of tunnel on Phase One of the UK's new high speed railway. 'Florence' was launched from our South Portal site next to the M25 in Hertfordshire, at an event attended by HS2 Minister Andrew Stephenson .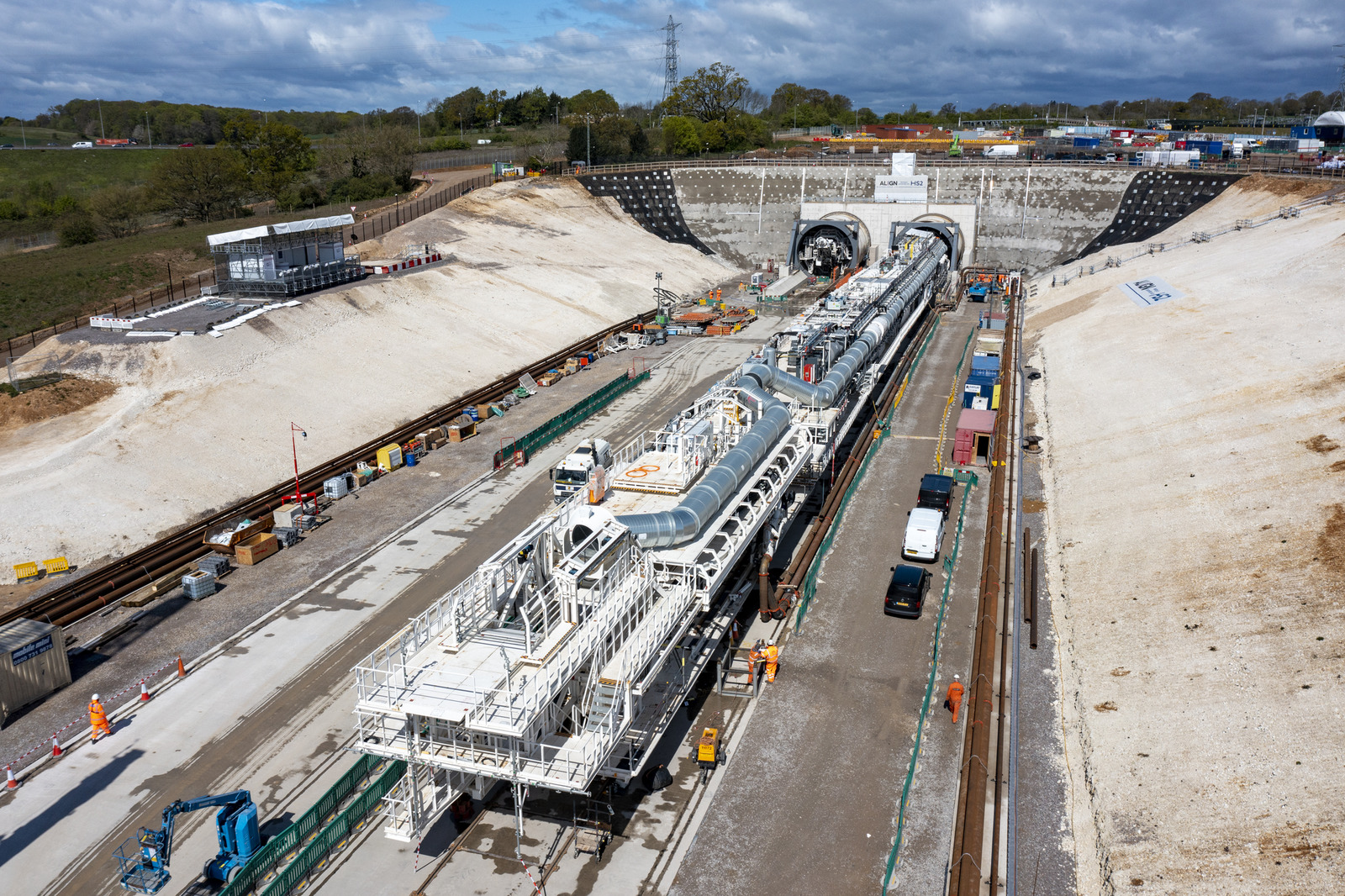 Florence, at 2,000 tonnes and 170m-long – the largest ever used on a UK rail project – will dig 10 miles of tunnel under the Chilterns, operating 24/7 for the next three years. Designed specifically for the mix of chalk and flints under the Chilterns, Florence and her identical TBM 'Cecilia'will dig separate tunnels for north and southbound trains. Each machine operates as a self-contained underground factory - digging the tunnel, lining it with concrete wall segments and grouting them into place at a speed of around 15 metres a day. Each tunnel will require 56,000 precision engineered, fibre-reinforced segments – which will all be made on site.
A crew of 17 people will operate each TBM, working in shifts to keep the machines running 24/7. They will be supported by over 100 people on the surface, managing the logistics and maintaining the smooth progress of the tunnelling operation. Chalk excavated from the tunnels will be used for landscaping at the south portal site once construction is complete, creating wildlife-rich chalk grassland habitats across 127 hectares of the southern Chiltern hills. Find out more about HS2's tunnelling programme .
Named after nursing pioneer Florence Nightingale – a name suggested by local children due to her residence at nearby Claydon House in Buckinghamshire, and chosen in a public vote – the TBM will dig the first of a pair of 10 mile long tunnels under the Chiltern hills and help to safeguard the woodland and wildlife habitats above ground, before emerging near Hyde Heath. A second machine 'Cecilia' will launch next month to excavate the second tunnel at the South Portal site.
Built by Herrenknecht, a world leader in TBM manufacturing, at its factory in south-west Germany, the two 170m long machines were transported to the UK in more than 300 separate shipments last year , before being reassembled, tested and commissioned by an expert team of tunnelling engineers at the Chiltern tunnel south portal site, near the M25 to the north-west of London.
The first two TBMs will be operated by main works contractor, Align – a joint venture formed of three international infrastructure companies: Bouygues Travaux Publics, Sir Robert McAlpine, and VolkerFitzpatrick. Align is recruiting 1,200 personnel in total, including 100 apprentices, to work on this area of the project and are targeting their recruitment and investment in upskilling local people who are currently unemployed, with a particular focus on women, the under 25s and those with disabilities, helping us support the UK Government's Plan for Jobs to protect, support and create employment during the COVID-19 crisis.
More than 16,000 jobs and over 500 apprenticeships are already being supported by the project, which is set to transform transport links between Britain's major cities, free up space on the rail network for more freight and local services and support the UK's transition to net zero carbon emissions.
The names of the two TBMs were suggested by students at Meadow High School in Hillingdon and The Chalfonts Community College, Buckinghamshire, which are close to the tunnel launch site. They were inspired by Florence Nightingale, the founder of modern medicine, and pioneering astronomer and astrophysicist, Cecilia Payne-Gaposchkin.
Some facts and figures about the Chiltern tunnel TBMs :
The tunnels will go as deep as 80m below the ground – ensuring communities and countryside above are not impacted by the railway
The cutter head will rotate at a speed of up to 3.2rpm with the machine expected to cover 15.6 metres per day.
When they start they will run almost non-stop 24 hours a day for 3.5 years
They will convert the spoil into slurry which will be pumped back to the south portal site where it will be treated before being used for landscaping on-site, removing the need for additional HGVs on local roads.
The total volume excavated by both TBM is 2.7million cubic metres
Useful links
If you have a question about HS2 or our works, please contact our HS2 Helpdesk team on 08081 434 434 or email hs2enquiries@hs2.org.uk